Chêne Services offers innovative technical services and technological equipment to assist its clients in controlling vinification and the ageing of wines.
Chêne Services tools
Chêne Services relies on the R&D expertise of Chêne & Cie in key areas such as the management of oxidative phenomena in wines and hygiene control in wine cellars. This synergy has resulted in the development of a range of exclusive technical solutions, most of which have been patented.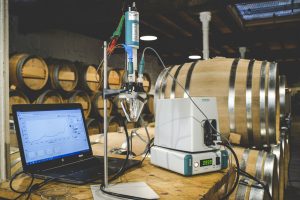 Oxidative phenomena and oxygen transfers in wines
ChênOX® is a tool for measuring dissolved oxygen inside a barrel without opening the bung (FR31081 patent). The ChênOX® platform received a mention in the Vinitech 2018 Innovation Awards.
CaOX® is an innovative tool for measuring the antioxidant capacity of wines (FR1361871 patent)
TeOX is a test for evaluating the oxidability of wines
Hygiene control in cellars
ContacT® is used to monitor the hygiene of wooden barrels and tanks (32191FR patent)
UV-T is a device for the disinfection of barrels
The services offered by Chêne Services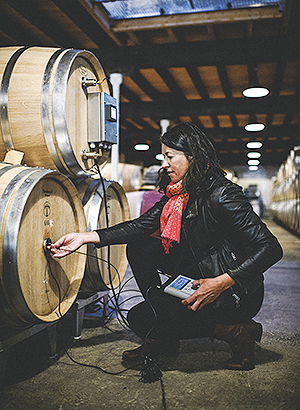 Chêne Services assists its clients in addressing their field issues thanks to the expertise of its technical team and the relevant use of its innovative solutions, in synergy with the companies of Chêne & Cie. It provides a range of innovative technical and analytical services meeting current challenges in the sector, relating more particularly to the control of wine ageing:
Analytical services
Innovative electrochemical measurements
Microbiology: barrels & tanks and cellar environments
Technical services
Monitoring of dissolved oxygen during ageing
Mapping of ageing cellars
Hygiene of wooden barrels and tanks
Maintenance of wooden barrels and tanks
Support and advice for the design of new cellars
For any further information: contact@chene-services.com